Must-try munchies for your mancave
02/06/2023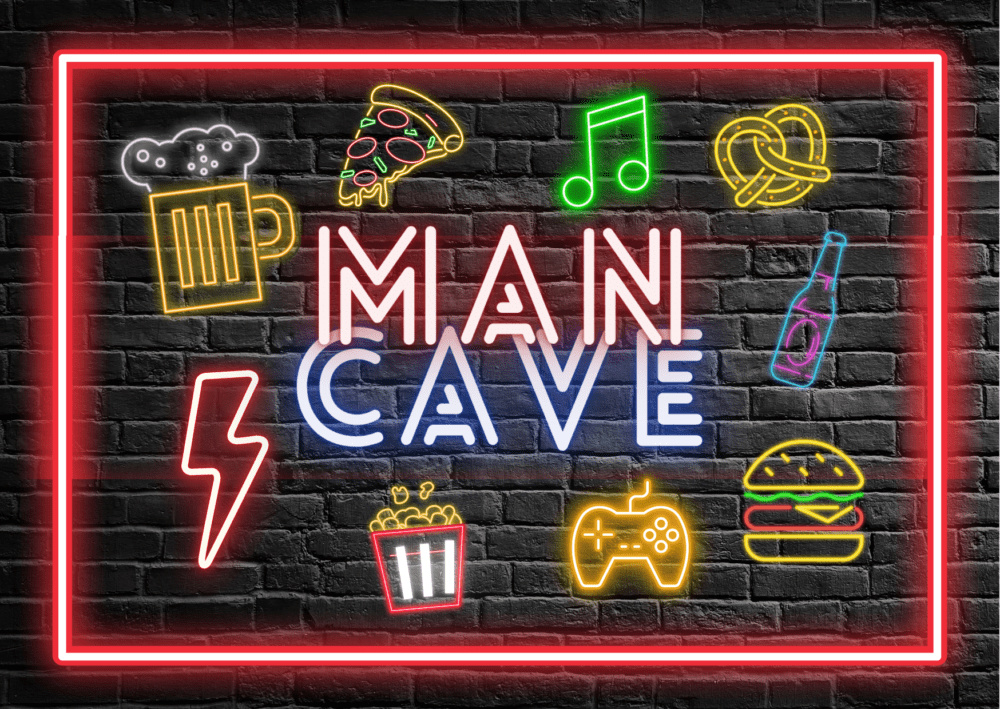 Envision this scene. You clock-off after a long week, it's Friday. The wife and kids are out visiting her parents. You have the house to yourself. "Ah, there is so much room for activities", you think to yourself. You slip into your comfiest clothes and decide to retreat to your mancave, where everything you ever want and need is there.
Welcome to your glorious mancave -a sacred space where a man can retreat to escape the hustle and bustle of everyday life. It's a place to relax, unwind, and enjoy some quality "me" time, or time with the fellas. A mancave is no joke, and is a safety zone for every man, which is why making a mancave the ultimate guy's oasis is oh-so important. Now, we have to ask, what better way to do that than with some delicious food and snacks?
To get you excited for your next Friday night of retreating, here are some foodie ideas for what to have in your mancave:
Chips and dip

No mancave is complete without a classic bag of chips and a tub of your favourite dip. Whether it's creamy ranch or spicy salsa, chips and dip are the perfect snack to munch on while watching the game, having a laugh with the boys or getting stuck in your favourite video game. 

Jerky


We are pretty sure every man loves a piece of jerky, are you with us? Jerky is a manly snack that's perfect for your mancave. In fact, we would be concerned if your mancave didn't have a decent supply of it. It's portable, tasty and full of protein, making it the perfect snack to keep you going during a marathon gaming session.

Beer


You are watching the game, tensions are high, and passions are even higher. Now, you better be having that cold beer in hand. If you don't, thats practically a criminal offence. A mancave would not be complete without a beer stash. Stock your fridge with your favourite brews, and you'll always have something to sip on while you relax.

Pretzels


No matter what's new, you simply cannot beat the classics. As far as mancave munchies are concerned, pretzels take the cake. They pair perfectly with beer, plus, they're easy to munch on while you're busy with your mancave shenanigans. 

Popcorn


This munchie ALWAYS hits the spot. Whether you prefer your popcorn sweet or savoury, there's a flavour for everyone. Perfect for when you are binge-watching that new Netflix series.

Nuts


Nuts are a healthy and satisfying snack that's perfect for the mancave. They're high in protein, healthy fats, and nutrients, making them a great choice for those long gaming sessions.

Pizza


So, you have the boys over for boy's night. The clock strikes 7.00pm, and the fellas are getting hungry. Don't worry, you can't go wrong by ordering or making a good old-fashioned pizza. Whether you make your own or order it in, pizza is a classic choice that never gets old.

Sandwiches

Make it quick, make it easy, that's our motto. Sandwiches are an easy and satisfying meal that's perfect for the mancave. Whether you prefer a classic PB&J or a meaty sub, sandwiches are always a hit.

Burgers


One munchie must-have that is synonymous with 'man', are burgers. We love this mancave meal because it's nearly impossible to mess up. Whether you grill them up on your backyard BBQ or cook them on the stove, burgers are always a tasty choice. Worst case scenario, we are sure there is a local burger joint near you to order in. 
So there you have it – a list of delicious food, snacks, and munchie must-haves to keep you well-fed and satisfied in your mancave. Live it up guys!